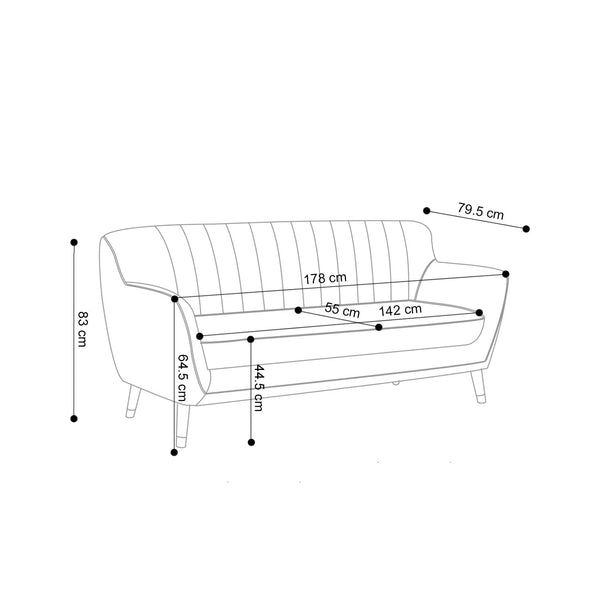 Material :
Velvet - 100% Polyester
Level of Assembly Required :
Partial
Additional Information:
Material Frame :
Solid + Particle Board
Material Legs :
Beech Wood
Seat Construction :
Pocket Coil + S Spring + Foam
Delivery, Returns & Click & Collect
At Decofurn, we're committed to making your shopping experience as convenient and hassle-free as possible. Here's how we do it:
Delivery:
Enjoy FREE delivery directly to your home or office anywhere in South Africa when you spend R3999 or more. For orders below R3999, delivery costs will be calculated at checkout.
Need your items assembled? Our friendly delivery team can take care of that for a small fee. Add assembly to your purchases at checkout, subject to availability in your delivery area.
For delivery time estimates, visit our Delivery for Online Purchases page.
Click & Collect:
Collect your order from a Decofurn Collection point near you. It's free and convenient!
For more information on how Click & Collect works, check out our FAQs page.
Returns:
We want you to be happy with your purchase. That's why we offer a hassle-free returns policy.
Return unopened and unused items within 7 days of delivery or collection.
For online returns, email us at returns@decofurnsa.co.za.
Please note that fees may apply. Please refer to our full Returns policy here for full terms and conditions.
At Decofurn, we pride ourselves on providing excellent customer service. We're committed to making every step of your shopping journey with us as smooth and enjoyable as possible. Shop with confidence and convenience - every time!
Delivered quickly and good material 😊
Couch 100%
I was happy about everything but the was no Communication about Delivery I was struggling to Track it I have to hire a truck to fetch my furniture everything was fine I love my Couch
A Happy Customer
The couch looks good, and is very comfortable.
The green colour is exactly the shade of green I was looking for.
I am very happy with the product.
The additional set-up charge was well worth it.
The delivery team had the couch unpacked and legs installed, and couch located in the ideal location I required very quickly.
JUNO VELVET 3 SEATER COUCH
JUNO VELVET 3 SEATER COUCH